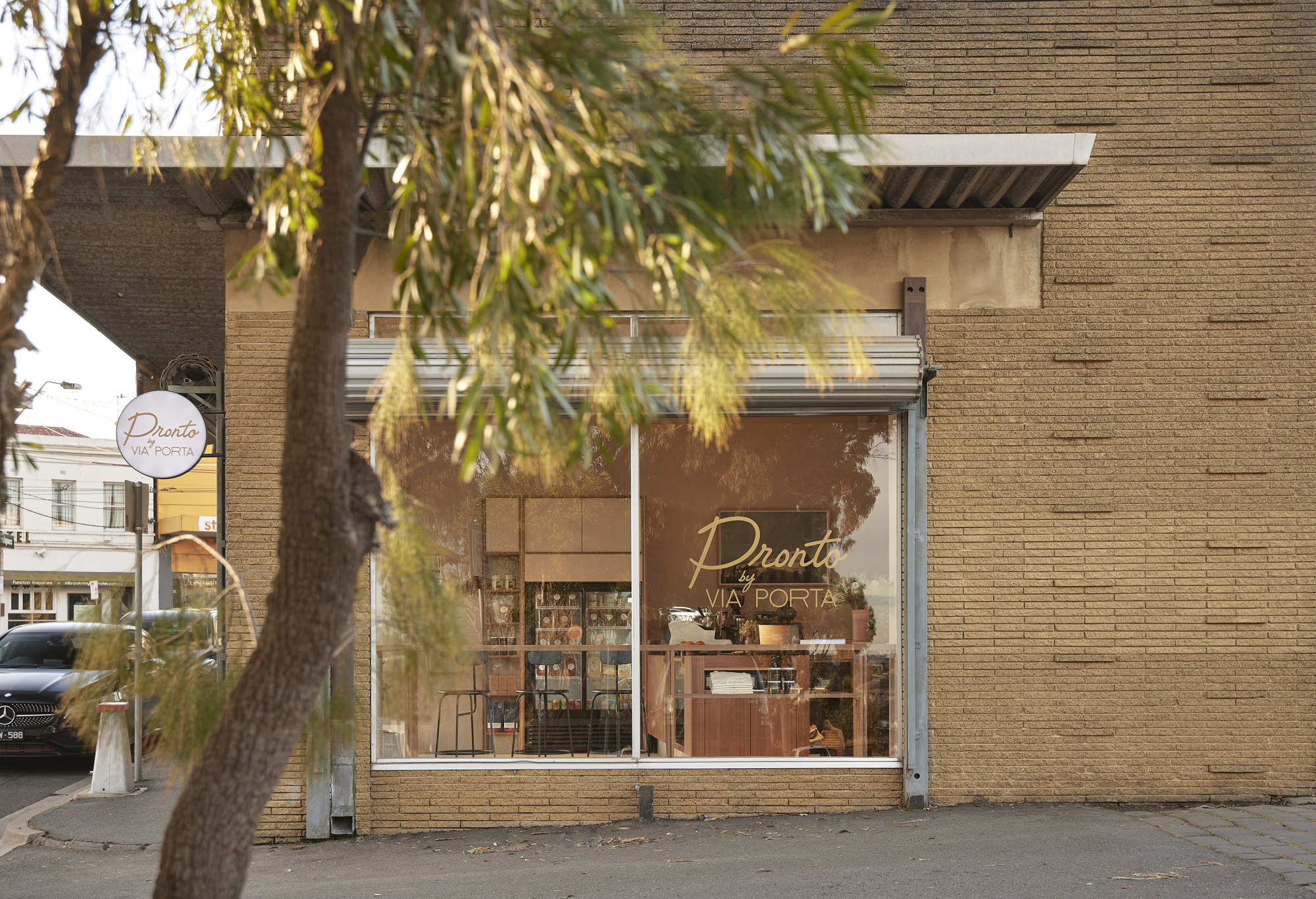 Conceived as a community-centric corner store and café, Pronto by Via Porta creates a bustling, light-filled hub in Melbourne's inner-east.
Recognising the importance of a café staple to service the community during Covid-19 lockdowns, Via Porta – first established in Mont Albert – took on a small corner site in Kew that offers much-loved Via Porta staples; coffee, house made pastries, toasted sandwiches and take-home meals. Pronto, meaning 'quick' in Italian, became a driving concept for the interior, thoughtfully designed to support 'grab and go' style service.
The site's industrial, cream brick building offered an unusual street presence, its raw materials and large industrial roller doors resembling the brutalist architecture found on the outskirts of Italian cities, typically contrasted by picturesque heritage piazzas. We looked to celebrate this distinction by setting the rawness of the building against a delicate, refined interior that speaks to the inherently Italian characteristics of the Via Porta brand.
Designed to encourage a fluid spatial flow for staff and patrons, the interior embraces an open spatial arrangement. Clear sightlines minimise the number of staff required to effectively operate the business – a key operational requirement of the client's brief – while facilitating intuitive patterns of use throughout the day.
Upon entering, customers are welcomed by a timber-clad coffee counter and pastry cabinet, combining intricate and monolithic forms. A 'grab and go' fridge displays a curated array of Via Porta's take-home meals, while a timber surround cleverly integrates retail merchandising. Extending along the building's dual frontage, timber benches offer a place for patrons to perch or dine, overlooking Kew's leafy surrounds.
Responding to the nostalgic qualities of the site, the interior embraces a pared-back sensibility, while maintaining a feeling of warmth and familiarity. Terrazzo flooring, speckled with warm apricot and grey stone, is complemented by warm timbers, textured render and nude pink hues, harmonising with the site's brick facades.
Set beside a nature reserve and playground, the double fronted, corner tenancy offers strong visibility to its refined interior and food displays, captivating and enticing passers-by. A surprising contrast to its roughened building shell, Pronto by Via Porta offers an elegant, relaxed and dynamic venue for the local community; a place for Via Porta to extend its offering with friendly service, Pronto.