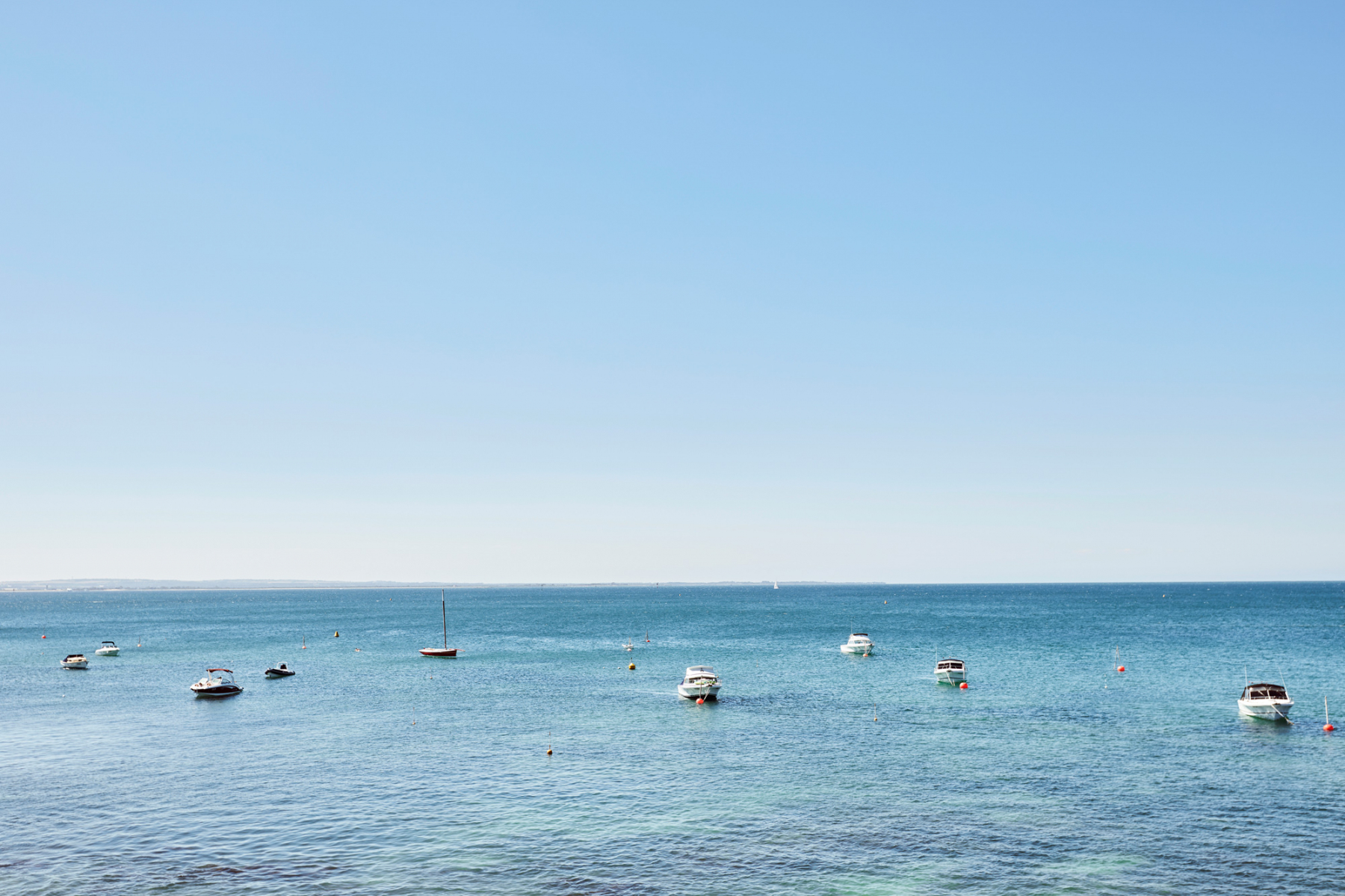 Located along the coastline of Port Phillip Bay and within arm's reach of the Portsea Pier, Portsea Beach House is the refurbishment of an existing cliff top residence. The proposed scheme pays homage to the understated character of the house which is reminiscent of the modernist era and adopts a sympathetic palette that draws inspiration from the surrounding coastal context.
The Client brief sought to rejuvenate the existing double storey residence, whilst maintaining the existing building footprint, with refined design gestures and minor modifications to the spatial arrangement to create a 6 bedroom haven. The brief called for a deep appreciation of the past, both from the perspective of the existing modernist house but also in the context of the family's long standing connection to the seaside town.
In response, decorative lighting and key furniture pieces were sourced through vintage ateliers, including the original Semi Pendant (1967) that features in both the ground and first floor living areas. New joinery insertions provide for a neutral backdrop to showcase our clients array of ornaments and treasures collected along their travels, the final layer that defines a strong sense of home. Also of significance to the family was a key art piece 'Boat Sheds on Fisherman's Beach by Sally Joubert', that featured in the family's past beach house and was to take pride of place in their new home.
The tactile palette consisting of slatted wall panelling, bagged white walls, warm timbers and accents of natural stone (reminiscent of the glistening coastline) work cohesively together to create an unpretentious and modern seaside home.
The introduction of crazy paving articulates an uninterrupted transition from exterior to interior, promoting a sense of continuity between the previously separate environments.
The existing kitchen, dining and living areas were maintained to the first floor level maximizing the coastal aspect and adjacent spacious terrace. The existing ground floor was reimagined, through the introduction of a new stair and buffet joinery, into a versatile second living area for the growing family.
The mid-century inspired staircase is a prominent feature within the home that defines the entry foyer (a previously vacuous space) and maintains views through to the bar and coastal aspect beyond. The bar provides a relaxed entertainment area, incorporating a high benchtop and operable window that maximizes views and cultivates a connection with the Portsea Pier.
The resulting home has now become a sanctuary where our clients can find a shared respite in their beloved beachside property with family and friends.
Photography by Sean Fennessy